Introducing the Calumet heritage area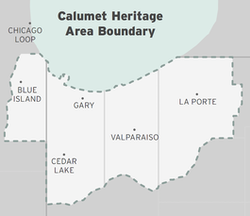 The more you explore the Calumet, the more you'll uncover the atypical beauty and resilience of the land, the industry, and the people. Soak in the sun, surfers, sailboats, and stunning vistas of the dunes along Lake Michigan. Stumble upon architectural relics that showcase the area's industrial heritage. And venture off the beaten path to find quaint, traditional downtowns; craft breweries; and local galleries. This rich balance of nature, diversity, and history—all within proximity to a vibrant Metropolitan area—creates an unrivaled destination for all kinds of adventures, worthy of exploring again and again.
The Calumet's landscape is an American story. It paints the picture of worlds converged to forge a new path— where the natural world was changed to make way for industry, where immigration transformed community identity, and where activist roots formed world-renowned ecology, social justice, and labor movements. Today, it is a place of innovation that inspires the passionate doers, thinkers, creators, and explorers that will shape the next wave. The region's future story—as a destination for ecotourism, clean industries, and arts and culture—will be just as transformative as its past.
Creating the calumet Heritage Area
The Calumet is a region of diverse communities, innovative industries, and resilient ecosystems. To highlight the region's significance, partners are working to create a Calumet Heritage Area (CHA). The CHA will bring people together across state lines to conserve natural and cultural heritage, improve recreational opportunities, promote regional arts, support sustainable economic development, and create heritage-oriented educational programing. The Calumet Heritage Partnership (CHP), a bi-state organization, began this effort and is working in partnership with the Calumet Collaborative, a bi-state organization focused on sustainable development, and the Field Museum, to create and manage the CHA. These partners have enlisted the help of numerous local historical societies, environmental organizations, arts organizations, planning agencies, companies, and citizens to make the heritage area a reality. In many ways we are already a heritage area!
Native American Land Acknowledgment
We acknowledge that the Calumet Region occupies the traditional homelands of the Potawatomi, and the area was also a site of trade, gathering, and healing for more than a dozen other Native tribes. Nearly a half million tribal members currently make their home in the six states of the Upper Midwest.

We recognize that Indigenous peoples are the traditional stewards of the land that we now occupy, living here long before Chicago was a city and still thriving here today. We acknowledge that the region was known to be an important place long before European settlement, and we also want to highlight the current efforts made by native peoples to steward this place, from wild rice harvesting in the Miller Woods area of Gary to efforts to create a cultural trail at the Indiana Dunes Visitor Center and many others.
WHAT WILL THE CALUMET HERITAGE AREA LOOK LIKE?
The CHA will connect the region's two National Parks, local parks, trails, tourism gateways, and historical sites. The CHA will promote these places to locals and tourists with enhanced signage, maps, and educational materials. Most importantly it will bring people together to learn about the Calumet's cultural and natural heritage guided by the following themes: