Calumet Heritage Area Most Endangered List – 2023
In 2020, Calumet Heritage Partnership released a wide-ranging list of endangered structures and public spaces, to shed light on the importance of preserving some of our region's most important and iconic places. While we've scaled back this year's list to focus more intently on saving as many as we can, our efforts to advocate on behalf of the places featured in our previous list continues.
The following structures in this year's list represent a geographic cross section of our diverse region – urban, suburban, and rural – reaching from its boundaries on the east and west, and its center in the historic city of Gary…
The North Gleason Park Community Building is the most substantial remaining resource of what was a public park and golf course dedicated for the use of Gary's African American population during the mid-20th century. North Gleason Park was an important place of recreation and leisure for the African American community of Gary during the era of forced segregation and Jim Crow laws that saw the prohibition of Black residents at other public parks. It became a hub for social gatherings and a point of pride for the Black community. The building was designed by the locally noteworthy architectural firm of Beine, Hall and Curran, and constructed in 1941 with a simple nod to the International Style. 
The now-vacant structure has suffered through years of deferred maintenance and is saddled with a leaky roof, mold, and a lack of operable mechanical systems.  Little else remains of the surrounding public park and golf course, now overtaken by wetlands and forests.
The school was completed in 1915 as the Dewey Township School, serving students from Kindergarten thru 12th grade, but the name was later changed to the La Crosse High School. The two-story building with a raised basement is regarded as a fine example of the Mission or Spanish Revival Style.
On May 5, 1915, the Dewey Township Advisory Board decided to erect a new school at the cost of $24,431.00, after the existing school was deemed unsuitable for educational purposes. The connected gymnasium was built in 1949 at a cost of $130,000 and included a stage, cafeteria, and kitchen.
In February 2020, the Tri-Township School Board made a surprise announcement that they were proposing to close La Crosse High School and build a new addition on a nearby school to accommodate the displaced students. The Board argued the building of a new addition was more cost-effective than renovating the existing school building. This follows years of upgrading other schools while allowing the La Crosse High School building to deteriorate, justifying the need to vacate it. Concerned residents and the LaPorte based non-profit "People Engaged in Preservation," or PEP, questioned the decision. Together, they raised funds and with the support of Indiana Landmarks commissioned RATIO Architects to provide a second opinion on the feasibility of renovation and cost comparisons. The second opinion showed that preserving the historic school would be cheaper. According to PEP's website: "The closing of a neighborhood school is often the final blow to a rural community's chance for stability or revitalization. Our schoolhouse is our community's anchor, offering a distinct and unique place to learn while providing a constant and subtle lesson about the history of our town and respect for the past."
This planned worker community was built in 1917 by Chicago industrialist Clayton Mark. After building up his manufacturing empire over the course of nearly 30 years, Mark decided to expand it by adding a steel mill. To provide nearby housing for his workers, he began building the community in what was marshland close to the site of the mill, initially planning to house more than 8,000 people in a mix of detached, row, and boarding houses, while providing residents with all the amenities typical of any other small town in a centralized market square.
To plan and design the community, Mark turned to renowned architect Howard Van Doren Shaw – he had commissioned Shaw just a few years earlier to design his estate on the shore of Lake Michigan in Lake Forest, IL. Shaw was no stranger to urban planning, having executed Lake Forest's Market Square in 1916, often cited as the first planned shopping center in the United States. As you can see by what remains in Marktown, Shaw was heavily influenced by European design, and took great care in its planning and design.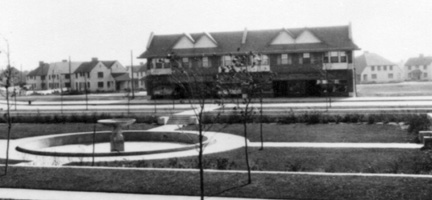 Ultimately, the community as originally planned was never fully realized, with only a fraction of what was platted and designed built due to the interruption of World War I and the sale of the Mark Manufacturing Company. As time went on, the houses and buildings were eventually sold off to private buyers, and industry encroached on the small community, surrounding it on all sides.
Up to 2011, all the structures that were originally built in Marktown still stood – a testament to the community's pride, and to Shaw's sturdy design. Since then, BP – which owns a large oil refining operation adjacent to Marktown – has purchased and demolished some of the properties, while other abandoned homes and buildings have fallen into disrepair and have been razed by the City of East Chicago.
Pride and preservation have been at the heart of this community for decades, as evidenced by its addition to the National Register of Historic places in 1975, just 9 years after the program's inception. That pride in place continues to this day, with some residents actively campaigning against the demolition they've seen in recent years and continuing to maintain and restore their homes in the beleaguered community. 
Like many neighborhoods in East Chicago, disinvestment and limited economic opportunities are an issue here as well. While some homes continue to be cared for, others that remain have fallen into disrepair – even some are vacant and in an advanced state of deterioration. While the City of East Chicago announced plans in 2022 to provide residents with money for certain repairs – along with retaining a consultant to develop a plan to revitalize the neighborhood – some residents remain skeptical. Demolition is still active in the community, and more structures are threatened.
It's the hope of residents, preservationists, and the Calumet Heritage Area, that the city keeps its word and follows through on their plans. The CHA and our partners plan to actively advocate for these measures and will post updates to this page and our social media channels as we receive them.
This canning and distributions facility Company was constructed between 1917 and 1919 to serve as the main Midwest processing plant for the Libby, McNeill & Libby Company- one of the world's leading producers of canned foods. Founded in Chicago in 1868 by brothers Arthur and Charles Libby and their partner, Archibald McNeill, the company pioneered the development of canned beef products and became a powerful player in Chicago's meatpacking industry by the end of the nineteenth century, operating a large processing plant at the Union Stockyards. During the twentieth century, Libby expanded its product lines to include a wide range of food products including canned and frozen fruits and vegetables, fish, milk products, and an extensive line of condiments. By the early 1920s, the company had constructed specialized processing facilities across the country and opened branch offices in Great Britain, France, Italy, and Belgium. The plant at Blue Island was constructed specifically for Libby's condiment lines, which included various juices, jellies, apple butter, salad dressings, mustard, baked beans, catsup, bottled olives, and pickles.
By 1919, when the Blue Island plant was completed, Libby, McNeill & Libby was the second largest producer of canned foods in the country. The building was designed by Philip Larmon, general superintendent for the Libby Company, and is a well-preserved example of a large-scale industrial manufacturing plant, and one of the largest industrial buildings in Blue Island.
Today, it sits mostly vacant, with obvious signs of deterioration visible in all parts of the building. A collapsing roof, broken and missing windows, and unsecured entrances have all exacerbated this deterioration, with no known plan from the building's ownership to address any of these issues.